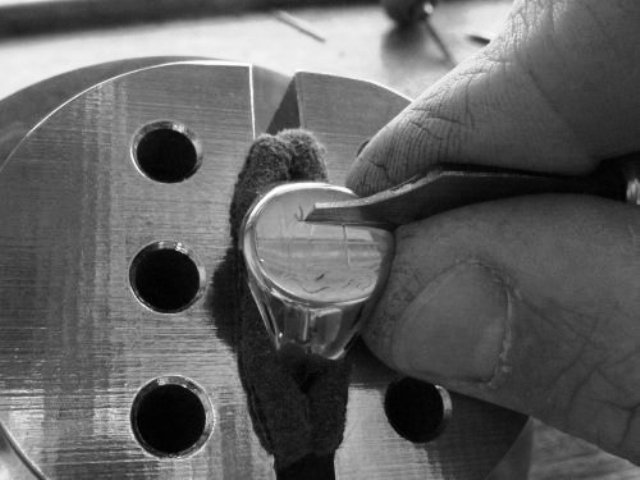 Manufacturing process: each signet ring is unique
MemOring signet rings are to be handed down from one generation to an other to keep history alive and the values of these men and women.
We give special care to the manufacturing process so the ring can weather the test of time and still be in its original state.
MemOring : a team of
professionals
From its creation to its shipping, our signet rings pass through the expert hands of highly qualified Artisans who are Master craftsmen in highly specialized fields:
Creation
We draw, study and develop the design of each ring's body, each is for specific corps of the Armed Forces:
- Barrel type: exclusively for the Army – Registered and protected by the French National Institute of Intellectual Property Rights (INPI in French)
- Quadrilateral type: Reserved exclusively for the Navy- Registered and protected at the INPI
- Hexagonal type: Reserved exclusively for the Air Force- Registered and protected at the INPI


Manufacturing
Guy Martinez handcrafts your signet ring with the best metals, greatest of care, precision and attention to detail. Several stages are required and essential to transform raw metals into a high quality and a unique signet ring: smelting with wax, engravings and polishing.
Setting
Our setting experts hand-set precious stones on the upper plateau of the signet ring. To set the precious stone permanently on the metal support, they do NOT glue or weld them. Their work is to pierce a support base that will fit and set the stone in the support base and then manually push the metal on the stone.
Engraving
All engravings are done by specialized Master Artisans. Laser engraving is used to engrave insignias with an extremely high level of detail and precision. So that it stands the test of time, we have worked on a deep engraving method.
Precious metals
The precious metals used are of very high quality and selected by our Master Artisan Jewellers. According your budget, you can select different types of metals for the body or the plateau of the ring:
Pure silver 925/1,000
Silver is a precious metal that was used in antiquity to make money and medals as well as, jewellery. Its name comes from the word "argentums" and means brightness and luminosity.
Pure gold 750/1,000- 18 carats
Gold, from the Latin «aurum », is the par excellence precious metal. Like diamonds, gold is eternal and is not affected by air or water, gold ensures that your signet ring remains intact.
Gold comes in yellow or white colours.
Pure
silver and platted

gold

Platting gold; is a technique whereby a thin leaf of gold is laid on precious metal. French law in this case, is even stricter than European law, MemOring respects the legal quality guarantees of « platted gold »under 3 specific conditions:
- A minimum metal purity of: at least 500/1,000
- A continuous and resistant layer
- A minimum precious metal thickness of 3 microns

The hallmarks on our signet rings authenticate the legal standards pertaining to the precious metal used.
Our signet rings are not hollowed out, but solid, their weight is therefore superior to traditional signet rings (10 to 15gr). Our signet rings weight in at around 35 to 45 grams depending on the size of your finger and the metal used.
MADE IN FRANCE
All stages of manufacturing of the MemOring signet rings are done in France, this to ensures perfect quality follow-up according to French jewellery savoir faire.
SAS MemOring Company is based in France