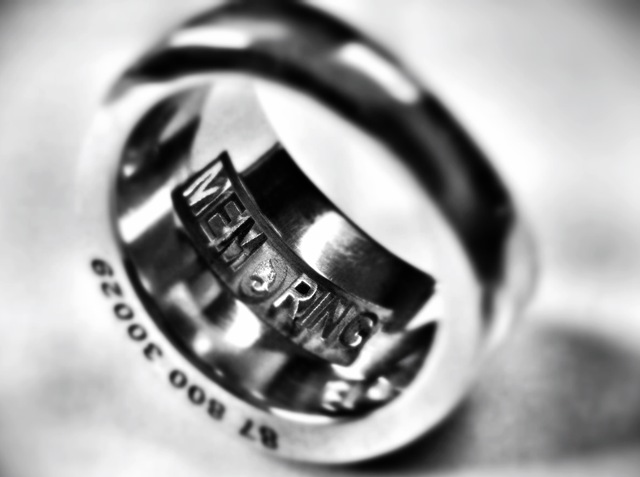 An exceptional signet ring, filled with traditions like no other
Originally, signet rings bore the coat of arms of English nobility as a sign of distinction and expressed their attachment to established values and traditions.
MemOring : origin & Genesis
MemOring and its signet rings are the imprint of the short or long fragment of history of a man or woman, belonging directly or indirectly to a corporation, who has participated in what a nation stands for and protected its vital interests, contributed to its physical security by protecting its people and who went in harms way to do so.

With this symbolism in mind, our signet rings exemplify the shared values of commitment, fraternity, courage, bravery and devotion to duty, the personal tracks left in the sand of time that is their human adventure and the challenges they overcame.

The genesis of MemOring signet ring, is quite simply, the association of the memory of those tracks in sand ( the human adventure of protecting a nation and having been in harms way to do so)
The emblem (our trademark) is the elephant, in the Western andAsian World it's the symbol of remembrance, long life, prosperity, benevolence and the protecting father figure.
A special signet ring for each arm of the Armed Forces
Each signet ring was designed to have a specific shape and style to enable Brothers in Arms to quickly recognize and identify each other. For each arm of the services there is a specifically designed ring. Each form and style iseasily identifiable. Within the Armed Forces, various units have their specific insignias; these insignias are in 3D on the plateau of the signet ring. Our manufacturing processes ensure an extremely precise level of detail.
When wearing the signet ring of your unit, you emphasize the bond of Brothers in Arms be they on active duty, veterans or departed and the values and traditions you share with them.


A unique and personalized signet ring
The Master Artisan Jewellers and the unique manufacturing process used to handcraft each ring, one after the other and with infinite care. We do not mass produce. To make these signet rings unique and personal, MemOring personalizes each ring with numerous options to choose from that show "the tracks you left in the sand of your personal history".
Precious metal & finishing
Several metals can be used to handcraft your signet ring to your liking and budget: Pure silver or gold, platted gold or a mix of gold and silver….
Different finishes are available when you select the metal you want. They will embellish the body of the ring; by its silvering, brushing or sanding…


Engravings
The size and shape of our various signet rings enables many engravings that give you a wide pallet of options to choose from:
- Engraving your service number on the top side of signet ring (1)
- Engraving on the bottom side of the signet ring (2) of a motto, date, name or rank….
- Engraving of stars symbolizing the number of foreign operations on the left of the signet ring (3)
- Engraving of an insignia on the right side of the signet ring (4) : unit insignia, ships' emblem, air base insignia….be they present or pastinsignias these are in our date base,
- Engraving your serial number and family name inside the signet ring.
Each element is placed in a specific spot determined by strict and specific terms and conditions.


Precious stones
Lastly, MemOring can set one or several precious stones on the plateau of your signet ring.
Each stone has a precise meaning:


- Diamond- stone of heroes, military valour, a medal.
- Ruby - stone of shed blood, symbolizes a combat wound
- Sapphire- stone for courage, symbolized the baptism of fire
- Emerald- Stone of internal peace, symbolizing the veteran.
- Topaz – Stone denoting force and fidelity, symbol of the War Veteran
- Black Diamond- Stone for friends who died in combat. In memoriam.
MemOring signet rings, the mirror of your history
You have purchased a MemOring signet ring and wish to have it evolve? To add a Foreign Operation star? To set a new precious stone? Your signet ring is not "set in stone at its date of manufacture" so-to-speak, MemOring can have it evolve at the same time as your career and your aspirations move forwards